How Often Should I Wash My Car?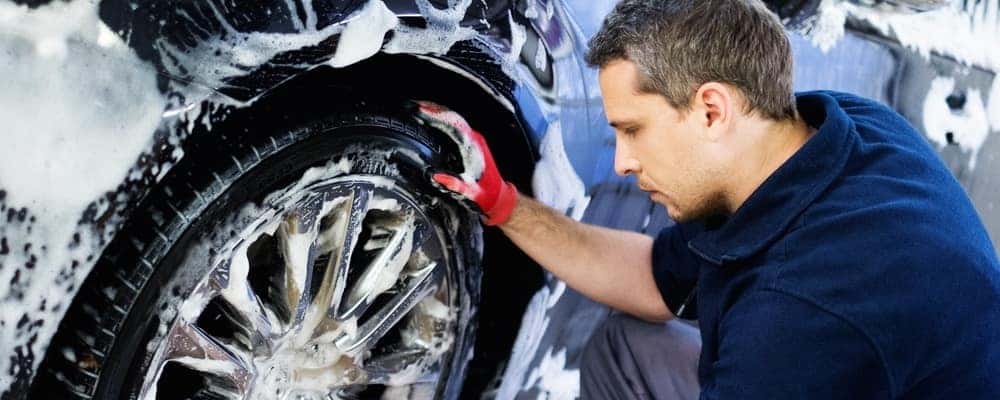 Asking "how often should I wash my car?" Most automotive experts recommend every two weeks or so, though that could change if:
There's Salt in the Air
You've Gone Off-Road
Your Car Was Visited by Birds
You'll also need to know about waxing and detailing. Read on to learn everything you need to know.
Why Should I Wash My Car?
Your car is a major investment, and everything from the salt in the air to the dust on the road can damage its paintjob. Remember, that's not just a cosmetic issue — your paint protects the body, so any damage could lead to rusting or other more serious problems. Beyond the "every two weeks" rule, you should wash more regularly if:
There's Lots of Salt in the Air: If you're by an ocean or somewhere salt trucks need to work on snowy roads, clean off the salt before it can corrode the metal and cause rust.
You've Gone Off-Road: Went from the streets of Monticello, Anoka, and Ramsey to rougher unpaved trails? Then you should give your car a good clean right after.
You Notice Bird Droppings: Those suckers are acidic. They can actually eat through your car's paint job.
What About Waxing and Detailing?
Splash some water over your car. If it beads up, you're all good. If it doesn't, you need to get it waxed. You already know it makes your car sleek and shiny, but wax also helps corrosive substances slide off the paint and provides an extra layer of protection between them and the paintjob. Finally, think about getting the car detailed every couple of months. This basically amounts to spring cleaning for your car. From vacuuming the interior to cleaning around the grille with a toothbrush, detailing gets your vehicle shipshape. You could take care of this yourself, but a professional will probably do a better job.
Trust Cornerstone Auto Servicing to Keep Your Car Looking Pristine
At Cornerstone Auto, our service center can help maintain your vehicle in prime condition — we even offer a 12-month You + Service Plan with the purchase of new models. To find out more, simply contact us today.
---
More from Cornerstone Auto
Who doesn't love a good Minneapolis road trip? If you're keen to get behind the wheel and hit the road for a little down-home adventure, check out our top picks for road trip destinations near Monticello, MN. Be sure to consult our road trip checklist before you head out on your adventure! Space Aliens Grill…

Ford offers some of the best pickup trucks, most fuel-efficient cars, powerful muscle cars, and spacious SUVs on the market today so if you're in the market for a new vehicle, no one has you covered better. Find the Right Ford for the Way You Live Ford Fiesta: The budget-friendly compact has a base price…

If you are looking for unique holiday events for you and your family, there are plenty of options near us. The team at Cornerstone Auto picked some of their favorites. Learn about some of the holiday events near Rodgers, MN below! Contact Us Arts of the Holidays Arts of the Holidays supports local artists and craftspersons…